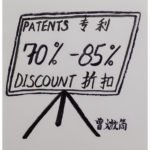 Since 2011, China is the world leader in the number of published invention patent applications (also the number of utility model and design patents is rising). China is in the process of doubling its number of patent applications (from more than 1 million patent applications in 2015). Subsidies and further fee reductions strengthen the incentive to apply for patents, thereby putting more pressure on the State Intellectual Property Office (SIPO) to assess patent quality.
According to China IP News, the Ministry of Finance and National Development and Reform Commission issued the Regulations on Reducing Patent Fees (Regulations) that became effective on 1 September 2016. The budget for the fee reduction is planned to be increased to RMb 4.1 billion per year as of 2016. Compare the budget for 2015 of RMB 3.5 billion.
The rationale behind this reduction is to decrease the threshold for inventors and companies to patent their inventions, and one measure to implement the Promotion Plan for the Implementation of the National Intellectual Property Strategy and acceleration of building an IP powerhouse in 2016, see SIPO's July announcement here.
Article 4 Regulations states that the following groups are eligible for an 85 percent reduction of the patent application fee, excluding announcement printing fee and additional application fee; substantive examination fee for invention patent applications; annual fee for six years from the year the patent is granted; and re-examination fee:
Article 3(1) Regulations: Individuals whose average monthly income was less than RMB 3,500 (RMB 42,000 annually) in the previous year;
Article 3(2) Enterprises, business units, social organizations and non-profit making scientific research institutes whose corporate taxable income was less than RMB 300,000 in the previous year;
In case two or more individuals or units are co-applications or co-owners of a patent, the fees could be reduced to 70 percent (Article 4 Regulations).
Big discounts, big challenges for patent quality
These reductions of patent fees, together with provincial or city subsidies, will lead to an even stronger surge in patent applications and grants, and therefore an even stronger pressure for SIPO to guarantee a sufficient standard of quality.
There probably must be a soft spot between motivating innovators to apply for a patent that without subsidy or fee reductions would never do so, and those patent filers that have claims that are neither novel nor inventive, but try to get a patent anyway. When the SIPO is overwhelmed with patent applications, subpar patents will slip through.
"The generosity of China's incentives for patent-filing may make it worthwhile… to patent even worthless ideas… Patents are easy to file,… but gems are hard to find in a mountain of junk."Patents, yes; ideas, maybe The Economist, 14 October 2010.
See earlier IP Dragon articles about the same topic: